Adorable German Shepherd Puppies for Sale Near You (Or Transported To you!)
Your Trusted Source for Responsibly-Raised German Shepherd Puppies in Ohio, with delivery available to Pennsylvania, Michigan, Illinois, and Nationwide
You're looking for a happy, healthy German Shepherd puppy to join your family. But you're worried about losing money to a scammer or making sure your puppy has been bred and raised with the love and care we all deserve–not from a puppy mill or pet store.
Families trust us because of our high standards for breeders, the ability to meet their new pup in person where it was raised, the ease of our adoption experience, and because we have the cutest German Shepherd puppies you've ever seen.
Explore our goldmine of German Shepherds for sale near you — and adopt your fur-ever friend today!
One of Ohio's Most Reputable German Shepherd Breeders
Connect With Us And Adopt With Confidence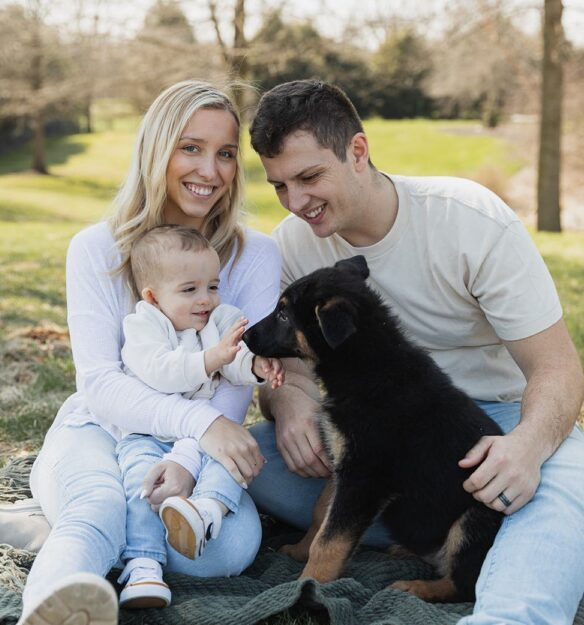 At Shepherd Kingdom, we learn, love, and live German Shepherd puppies! We know this breed uniquely, because that's all we do! With our breeding experience, we're able to get them started off on the right paw with proper socialization, an extensive health guarantee, and even arranging gentle puppy transportation, if needed. Read more about us here.
No Puppy Mills
Your puppy has been raised in a clean, caring environment.
Certified Vet-Check
Your puppy has received a nose-to-tail vet check by a licensed veterinarian.
Health Guarantee
Your puppy is backed by a genuine 2-year genetic health guarantee.
Pre-Loved & Socialized
Your puppy is off to a great start with socialization.
German Shepherd Puppies From Ohio, Happy Homes Nationally
Although we are based in Dundee, Ohio, many of our customers live all over the continental US. If driving to pick up your puppy isn't practical, we can even bring your new furry family member directly to you at an affordable rate anywhere in the continental US.
Many of our Ohio German Shepherd Puppies go to their furever homes in:
Purebred German Shepherd Puppies
Buying a puppy is a big decision. We made that decision easy.
Don't go barking up the wrong tree. Not knowing where your puppy has come from could lead to genetic health and socialization issues, and ultimately disappointment.  There are even tons of puppy scams on the internet, some of which even try to imitate us!
We believe dogs are not "like" family — they ARE family! That's why it's so important to us to find caring environments for all of our German Shepherds for sale. Unlike other puppy adoption agencies in Ohio, we allow and actually encourage you to meet our German Shepherd puppies for sale before you agree to take one home. Remember, too, that when it comes to getting a puppy, ultimately, you get what you pay for. Here's how we smoothly transition German Shepherd puppies from our home to yours:
1
Find Your Puppy
See your German Shepherd puppy in-person or online & directly get to know us!
2
Reserve Your Puppy
If you can't meet the pup first, no sweat! Place a deposit on your new German Shepherd first before coming out to visit so we can begin arranging travel.
3
Take Your Puppy Home
This is the best part! You get a German Shepherd you love, vetted for good health, from a breeder you trust.
"Thank you so much for making our dreams of owning such a beautiful German Shepherd come true! We absolutely love her and have already told our friends and family about you guys! I'll send you more updated pics as she grows up more:)"

"Mason the blue Shepherd (renamed Enzo) has been nothing more than the best thing I have ever done! The amount of people that have asked which breeder I got him from is unreal."
All Reviews